Stay Informed * Get Involved * Tell Others
---
Public Comments Encouraged on or before Monday, June 10.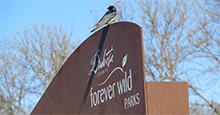 A draft Natural Resources Management Plan (NRMP) for Lebanon Hills is now available for a public review and comment through Friday, June 7.
Suggested Comment

for you to use, or edit as you prefer.

All are encouraged to include a personal message or additional key points you'd like to highlight.

Submit comments to Joe Walton, project manager, joseph.walton@co.dakota.mn.us.
In addition to Nature-based recreation and education opportunities, Lebanon Hills offers habitat for a wide variety of wildlife species that use the park, including species of greatest conservation need — badger, Blanding's turtle, red-headed woodpecker, rusty-patched bumblebee, red shouldered hawk, river otter, tiger salamander, oven bird, brown thrasher, monarch butterfly, leadplant moth, Dakota Skipper, prairie skink, green snake, and plains pocket gopher, among many others. In addition, staff developed a list of over 100 species that have potential to either occur in the park, but have not been observed yet, or have the potential of being restored to the park.
The natural resources management vision for LHRP is to manage water, vegetation, and wildlife to conserve and increase biodiversity, restore native habitats, improve public benefits, and achieve resilience and regionally outstanding quality, now and for future generations.

The draft NRMP develops approaches to set a course for sustainable native plant communities within the park, which is critical toward preserving the unique natural character of Lebanon Hills.
We strongly support efforts to help Lebanon Hills achieve its full potential as an exceptional oasis of high-quality natural resources to benefit now and future generations of people and wildlife.
Submit comments to Joe Walton, Senior Ecologist and Project Manager, joseph.walton@co.dakota.mn.us or call 952-891-7507.
Meaningful public engagement is essential to the decision making process for our valuable regional parks system.  We are working hard to monitor and keep you informed on issues at Dakota County, Metropolitan Council, and the Legislature that may impact the future of Lebanon Hills and other metro area natural spaces, and how you can take action.
Lebanon Hills Restoration Update

Schedule of Volunteer Stewardship Events

Ongoing Issue to Watch:  Spring Lake Park Reserve

Regional Parks and Legislative Efforts
Conflicts in Parks and Trails Legacy Spending

A Crucial Time for Nature-based Parks

Lebanon Hills:  A "Park" or "Park Reserve"?

Schedule of 2019 Natural Resource Volunteer Events
Legacy Amendment:  Ten Years Later

The 25-Year Parks and Trails Plan

Regional Parks:  Vision vs. Reality

Keeping Lebanon Hills "Forever Wild"
Restoration at Lebanon Hills

Transitioning to a Healthy Ecosystem

The Regional Parks Policy Plan

Critter Corner:  Spring Peepers
Implementing Master Plans — Let's Improve the Process

Update:  Lebanon Hills Natural Gas Pipeline Expansion

Why Trees are Being Cut Down in Lebanon Hills

Critter Corner:  Barred Owls
Central Greenway Study – Revised and Approved    

Managing Invasive Buckthorn – Here's how ELF can help

"Forever Wild" Decision Makers

Preserving Nature Close to Home

Northern Cardinals
WANTED:  Dakota County Parks and Natural Resources Commission

Natural Resource News and Events at Lebanon Hills

Rethink Nature-based Parks System

Dragonflies and Damselflies
Natural Resource Improvements at Lebanon Hills

Action Pending – Central Greenway Connectivity Study

Comprehensive Natural Resource Management Plan

Rusty Patched Bumblebees
Connector Trail Status

Central Greenway Connectivity Study

Natural Resource News / Lebanon Hills Projects

A Legacy of Nature Campaign