Our Legacy…Our Choice
"We do not inherit the earth from our ancestors, we borrow it from our children." ~ Native American Proverb
What will we leave the next generation?  We propose A Legacy of Nature.
Taking care of urban natural space, especially within our unique and valuable Regional Parks System, must be a priority to help ensure a lasting legacy of high-quality natural areas, close to home, for the benefit of now and future generations of people and wildlife.    
Regional Parks complement services and amenities found throughout our city parks and recreation areas.

Most regional parks contain significant natural resources such as lakeshore, wetlands, hardwood forests, native prairies and groundwater recharging areas.

These large, open spaces provide unique opportunities for nature-based recreation and respite, educational opportunities to inspire the next generation of stewards, and valuable wildlife habitat.

Throughout the regional parks system natural resources are degraded, risking a future of diminished opportunities for people and wildlife.

For the next generation we must re-think how we are managing these valuable open spaces. 

Let's leave urban natural areas better than we found them.
"The value of nature as an essential aspect of our health, creativity, intelligence, and wellbeing is often overlooked.  Yet when nature is diminished, so are we."
~Richard Louv, author of Last Child in the Woods
 Minnesota's Clean Water, Land and Legacy Amendment — What You Should Know
More Stuff to Take Care Of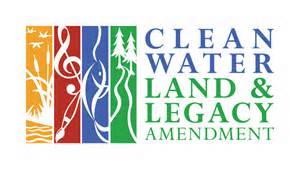 Based on past spending and current funding requests, the 2008 Legacy Amendment will be more detrimental to our metropolitan area natural resources than many of those who voted for it expected.  Despite the fact that woodlands, prairies, lakes and wetlands are stressed and degraded in many of our regional parks, Legacy money is funding New Development throughout our regional parks system.
Clean Water, Land and Legacy Amendment
The Legacy Amendment was passed by Minnesotans in 2008.  Most cited reasons such as clean water and preserving nature as their reason for voting "yes". 
Legacy money is divided into four funds:  Outdoor Heritage, Clean Water, Arts and Culture, Parks and Trails

The Parks and Trails Fund receives 14.25% of the Legacy Amendment Funds;  of that, 40% funnels through the Metropolitan Council for the Regional Parks System.
Parks and Trails Legacy Spending
Contrary to what people intended when they voted to support the Amendment, our Legacy dollars are not being invested in restoring our degrading natural resources.
The highest category of spending within our regional parks system has funded New Development — including projects that fragment our forests, increase built amenities and asphalt in our parks, and diminish wildlife habitat.

Legacy funds are regularly used to match federal transportation enhancement grants for construction of corridors for commuting bicyclists;  when federally funded trails projects are built through natural areas, they often result in extensive construction detrimental to the surrounding landscape. (See Example Below).

For every dollar invested in new construction, annual expenses increase for upkeep and eventual replacement;  there already is a shortfall of funding for ongoing maintenance throughout our parks systems.
Parks and Trails Funding Requests, FY2018-19
The most recent Parks and Trails Project list was submitted by the Met Council to the Legislature during the 2017 session totaling $35,475,000 for FY2018-19.  The project list continues to prioritize costly development projects within our Regional Parks system, even though natural resources in many of our regional parks are degraded.  The project list includes:
Remodel park headquarters building

Reconstruct restroom and garage

Construct maintenance building and new pole shed

Construct 4.6 acre paved parking lot;  1.5 miles paved road

Purchase diesel generators.
 

A Legacy of Nature

Wilderness in the City is advocating for A Legacy of Nature.  We believe that taking care of the Natural Resources within our unique and valuable regional parks system must be a priority, and that investments made now will help ensure a lasting legacy of high quality natural areas for future generations of people, and valuable habitat for wildlife.
Metropolitan Regional Parks System
In 1974, the State Legislature established the Regional Parks System in part to preserve and protect the most valuable remaining open spaces in the metropolitan region.
Regional parks contain significant natural resources such as lakeshore, wetlands, hardwood forests, native prairies and groundwater recharging areas.

Natural resources throughout our regional parks system are degraded and stressed as evidenced by poor water quality and the prolific spread of buckthorn and other invasive plants.

Left unmanaged, the degraded conditions threaten the future of our metro forests, prairies, lakes and wetlands.

The result is low-quality natural places for recreation and education, and wildlife habitat that doesn't support many of species of birds and other wildlife.
Minnesotan's approved the Legacy Amendment to support Natural Resources, however:
Review of Parks and Trails Legacy spending for metropolitan regional parks shows up to 80% invested in built infrastructure

This is inconsistent with the intent people had when they voted to support the Legacy Amendment, and is inconsistent guidelines defined by the 25-year Parks and Trails Legacy Plan.
Our Position
To help ensure desired outcomes are achieved for the regional parks system, going forward we support:
Not more than 20% of spending for built infrastructure including design, engineering, construction for replacement/repairs of existing facilities;

Not less than 60% for natural resource restoration projects independent of development projects

Construction projects much be reviewed by a qualified, independent ecology professional to assess impacts to natural resources;  only those projects which have no negative impact on the natural resource base should be considered for approval

Construction projects funded with Legacy amendment dollars must follow the highest standards for sustainable practice.
Take Action — Here's what you can do
Contact your Elected Legislators — Ask them to support Nature, not development, with parks and trails legacy monies.  [Contact info for who represents you.]
Suggested comment to include:  Citizens voted for preserving nature and clean water when we voted for the Legacy amendment.  I ask you to ensure the metropolitan parks and trails monies prioritize natural resource conservation, not building new infrastructure that must be maintained.
Join our email list — We will keep you informed of decisions made, pending actions and what you can do.
Inform others about A Legacy of Nature.
Spring Lake Park Reserve – An Approved Legacy Project
Mississippi River Regional Trail (MRRT)
At a recent Legacy Funding Finance committee hearing (MN House, 2/20/17), the Met Council presented how the Parks and Trails Legacy fund is impacting our Regional Parks System. They highlighted the Mississippi River Regional Trail project where Legacy dollars helped to fund construction for two unfinished sections or gaps in the trail.
Notably missing from their presentation was the irreversible damage this caused to an ecologically sensitive area within Spring Lake Park Reserve.
DNR Recommended Restoration to Rare Native Plant Community
Prior to construction, the DNR sent a letter [DNR letter, 9/23/2013] to Dakota County regarding the project. In the letter, the DNR:
Recommended avoiding the proposed trail area because it contained a Dry Bedrock Bluff Prairie — a rare native plant community that is vulnerable to extirpation within Minnesota.
Offered assistance in restoring this area using methods such as brush clearing and prescribed burning.
Instead, Dakota County Board, Met Council, State Legislature Approved Legacy Funds to Construct Trail
Disregarding the DNR's recommendation, and public opposition to this project, the Dakota County Board, the Met Council and the Legislature approved Legacy funding to complete this trail gap.
Explosives, Eminent Domain, and a $9 Million, 4 Mile Trail
Explosives were used to create a bench cut through the bluff, and 200-foot wide swaths of forests were cleared from land Dakota County acquired through eminent domain in time to build the trail. The estimated project cost exceeded $9 million for the 4-mile trail gap.
It's worth noting that the park's approved Master Plan included a different alignment that avoided the sensitive bluff area at an estimated cost of less than $1 million.
Photos:  Spring Lake Park Reserve, Dakota County
Through land acquired by eminent domain, an unfragmented mature forest was cleared more than 200-ft. wide and natural terrain was significantly altered.

A mining permit was obtained and explosives used to create a bench cut through bluffs along the Mississippi River — the most ecologically sensitive area of the park.   The DNR submitted a letter to Dakota County prior to construction recommending avoidance of this area because it contained a rare plant community that is vulnerable to extirpation within Minnesota. 

There was an alternative option for a trail alignment in the park's approved master plan.  This option had public support, would have avoided the sensitive bluffs, and been far less costly.
Photos:  Spring 2017 – Ecologically sensitive landscape and wildlife habitat irreversibly changed;  Visitors separated from nature with asphalt and fences;  river views permanently altered.