No One Can Do Everything, but Everyone Can Do Something!
Every voice matters in the work to protect our urban natural resources – and one determined person can make a difference. Add your voice to our community of dedicated wilderness-in-the-city lovers working to protect our urban greenspaces. There are many ways you can join us in preserving our urban and suburban greenspaces.
Wilderness in the City – Get Involved!

 
We're growing!  And we appreciate those who can offer their time to support our work. We are especially looking for volunteers with experience in:
Grant writing

Website Maintenance

Membership support
Join our Stewardship Committee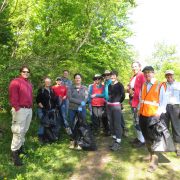 Have a direct impact in helping our native flora and fauna by joining our Stewardship Committee.
Join our Outreach Committee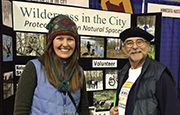 Help us promote Wilderness in the City and Lebanon Hills Regional Park at community events throughout the year.
Contact us here or click the Volunteer button below. Thank you!
To help us grow our organization or to join a Committee (Advocacy, Outreach, Stewardship) click the blue Volunteer Button:
2019 Schedule of Monthly Environmental Stewardship Events at Lebanon Hills
Wilderness in the City supports monthly volunteer stewardship events at Lebanon Hills in partnership with Dakota County Parks.  These efforts are critical toward the goal of restoration and ongoing management of the parks natural resource base, which is Lebanon Hills greatest asset.
We are proud to continue this partnership and invite you to join other volunteers from Wilderness in the City and Dakota County staff for upcoming events.  Join us and bring a friend!
Tues., April 30, 6-8pm * Thurs., May 2, 6-8pm * Sat., May 11, 9-11am:  Garlic Mustard Training/Pull
Following a brief training, you will work alongside Dakota County staff to and other volunteers to remove Garlic Mustard from predetermined sections of the park.  Upon completion of the event, you're encouraged to take the Garlic Mustard Challenge by spending an additional 6-hours pulling Garlic Mustard between May 1 and June 30, 2019.
You can pull on your own, or join a Garlic Mustard Challenge Work Night scheduled every Thursday from 6-8pm, starting May 9 through June 6.  
Thurs., June 6, 6-8pm:  Natural Resource Work Night TBD
Thurs., July 11, 6-8pm * Thurs., Aug. 8, 6-8pm:  Japanese Hedge Parsley Training/Pull
Thurs., Sept 12, 6-8pm:  Native Seed Collection
Fall Dates TBD:  Buckthorn Busts
To register or for more information, visit the Dakota County website, or contact Garrett Zaffke, Volunteer Coordinator at garrett.zaffke@co.dakota.mn.us, 651-438-4635
——————————————————————————————————————————–
Additional opportunities to help support "Forever Wild" parks include:

 

  
Lebanon Hills Regional Park
Spring Lake Park Reserve
Thank you Volunteers!